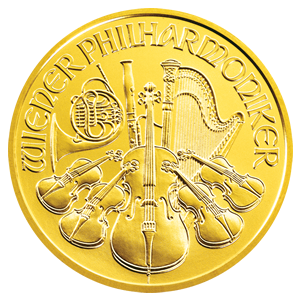 Produced by the Austrian Mint, one of the oldest continuously-producing minting institutions in the world, Gold Vienna Philharmonics are  legal-tender gold bullion coins that are renowned for their beauty, purity and high quality. As the only European legal tender gold coin produced on a large scale, the Vienna Philharmonic is also the only regularly-issued bullion coin denominated in Euros. With a fineness of .9999 (or 24 karats), the Vienna Philharmonic, which was first struck in 1989, is the largest diameter one-ounce pure gold coin in the world.
In celebration of the Austria's rich musical and cultural heritage, the obverse of each coin displays imagery of the Vienna Philharmonic Orchestra, the cultural pride of Austria, and features a montage of instruments, including a string bass, cellos, violins, a bassoon, harp and Viennese horn, representing Austria's rich musical and cultural heritage. The reverse side of gold bullion coin features the "Great Organ," a unique instrument that is located in the historic "Golden Hall," the concert hall of the Philharmonic Orchestra.

Vienna Philharmonic gold bullion coins  are available in four  convenient sizes from Monex:
With a diameter of 37mm and a thickness of 2mm, the one troyounce Vienna Philharmonic coin is only slightly smaller than  a US silver dollar coin. The once-ounce gold bullion coins feature a face value of 100 euros and are  available from Monex in units of ten coins.
The one-half troyounce Vienna Philharmonic coin has a diameter of 28mm and a thickness of 1.60mm. Each coin features a face value of 50 euros and  these coins are available from Monex in  units of twenty coins.
Also available in  units of twenty coins, the one-quarter troyounce Vienna Philharmonic has a diameter of 22mm and a thickness of 1.20mm. Each features a 25 euro face value.
Finally, the 10 euro face value one-tenth troy ounce gold Vienna Philharmonic  is 16mm in diameter with a thickness of 1.20mm. These  coins are available in  units of 20 coins from Monex.
With the  wide range of values, sizes and denominations of gold bullion coins available, Monex Account Representatives can help investors identify the right  Vienna Philharmonic coins to meet their investment needs. Contact Monex today for more information.
Click here for current Gold Vienna Philharmonics Prices!
Gold Vienna Philharmonics Price Trends
Please Note:

Coin prices are Monex ask prices per ounce.
Closing prices are the last prices of the business day.
Candlestick charts and closing price charts do not incorporate the current trading day.
Call 1-800-444-8317 to speak to a Monex Account Representative today!