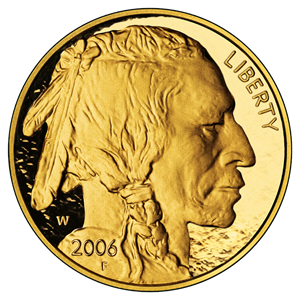 Produced as a result  of the Presidential Coin Act of 2005, the Gold American Buffalo coin was the first pure 24-karat gold bullion coin produced by the US Mint. Unlike previous US gold coins, which are traditionally 22-karats or .9167 fine, the American Buffalo stands alone as the only one-ounce, pure .9999 fine gold bullion coin produced in the rich history of the mint. With the first minting in 2006, over 300,000 American Buffalo gold coins were produced and sold that year.
With images originally featured on the "Indian Head" or "Buffalo" nickel, minted in the United States from 1913 -1938, the gold American Buffalo bullion coin showcases a profile of a Native American man on the obverse side, and the image of an American bison on the reverse side. These iconic images were originally created by American sculptor James Earle Fraser, a student of Augustus Saint-Gaudens, making the American Buffalo one of the most striking and beautiful coins ever created by the United States Mint.
Monex offers American Buffalo gold bullion coins in units of 10 coins for personal delivery.   Each coin contains exactly one troy ounce of pure, .9999 fine  gold. Gold American Buffalos are 32.70mm in diameter and 2.95mm in thickness. As such, each coin is roughly the size of the U.S. half dollar coin, and has a face value of $50. The gold content and purity of Gold American Buffalo coins are guaranteed and backed by the United States government, and offer investors the convenience, security and liquidity of a world-class gold coin.

Contact a Monex Account Representative for more information on these collectable, valuable and beautiful gold bullion coins. Monex offers competitive prices on these and other gold, silver, platinum, and palladium coins.
Click here for current Gold American Buffalo Prices!
Gold American Buffalos Price Trends
Please Note:

Coin prices are Monex ask prices per ounce.
Closing prices are the last prices of the business day.
Candlestick charts and closing price charts do not incorporate the current trading day.
Call 1-800-444-8317 to speak to a Monex Account Representative today!