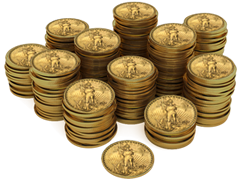 Gold coins have been a form of currency for thousands of years, from ancient Greek and Roman times to the modern era. As a store of wealth that is not tied to a single government or dependent on any counterparty, gold bullion coins are an alternative to fiat currency, a dangerous monetary standard that has historically led to the demise of once-prosperous civilizations.
As one of America's premier bullion coin dealers, Monex processes billions of dollars in precious metals transactions each year and offers competitive gold bullion coin prices. While the value of each gold bullion coin is inherently tied to the current market price of gold bullion, there are individual  factors that make the price unique for each type of coin. As such, Monex offers individual price charts for each of the gold bullion coins we offer. Follow the links below for prices for each gold bullion coin offered by Monex.

Please Note:

Coin prices are Monex ask prices per ounce.
Closing prices are the last prices of the business day.
Candlestick charts and closing price charts do not incorporate the current trading day.
Call 1-800-444-8317 to speak to a Monex Account Representative today!