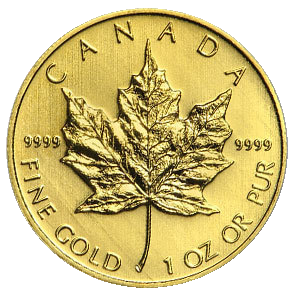 Known as the standard of quality against which all other bullion coins are measured, the Gold Canadian Maple Leaf, first released in 1979, is a pure 24K (.9999 fine) gold bullion coin created by the Royal Canadian Mint. This world famous institution insists upon the usage of flawless planchets, leading to the production of coins that are renowned for their level of purity, refinement and beauty. With this stellar reputation, the one troy ounce gold Canadian Maple Leaf has been in production longer than any other pure gold bullion coin. Available in four convenient and collectible sizes, the Gold Canadian Maple Leaf features a relief of Queen Elizabeth II on the obverse side, and the national symbol of Canada, the maple leaf, on the reverse side.
As one of the most popular gold bullion coins, the classic one troy ounce Gold Maple Leaf measures 30mm in diameter with a thickness of 2.87mm. The coin features a face value of 50 Canadian Dollars and is approximately the same size and thickness of a United States half-dollar. Monex offers these one-ounce Gold Canadian Maple Leafs in units of 10 coins.

Gold Canadian Maple Leaf coins are also available from Monex in fractional sizes. These smaller sizes are perfect for collectors and investors alike and are sold in units of 20 coins. The half-ounce coin has a diameter of 25mm, a thickness of 2.23mm and a face value of 20 Canadian Dollars. The quarter-ounce coin has a diameter of 20mm, a thickness of 1.78mm and a face value of 10 Canadian Dollars. The tenth-ounce gold Maple Leaf features a diameter of 16mm, a thickness of 1.13mm and a face value of 5 Canadian Dollars.
In addition to these typical varieties, the Royal Canadian Mint has also issued some unique variations of the Gold Canadian Maple Leaf. Created in 2007 and weighing in at 100 kilograms (220 pounds), the one million Canadian Dollar face value coin was the largest and purest gold coin ever produced up to that time. With a purity of .99999 ("five-nines") finesness, and featuring an amount of gold equal at the time of minting to approximately two million United States Dollars, this coin is truly a unique and beautiful specimen.
Additionally, in 2007 a $200 Canadian Dollar face value variety of the Gold Canadian Maple Leaf was created that featured one-ounce of .99999 ("five-nines") fine gold. This special coin features the highest face value of any one-ounce legal tender gold bullion coin produced.
As a world recognized symbol of beauty, refinement and purity, the Gold Canadian Maple Leaf is a unique investment opportunity. Contact a Monex Account Representative to learn more about these and other gold bullion coins available from Monex.
Click here for current Gold Canadian Maple Leaf Prices!
Gold Canadian Maple Leaf Price Trends
Please Note:

Coin prices are Monex ask prices per ounce.
Closing prices are the last prices of the business day.
Candlestick charts and closing price charts do not incorporate the current trading day.
Call 1-800-444-8317 to speak to a Monex Account Representative today!