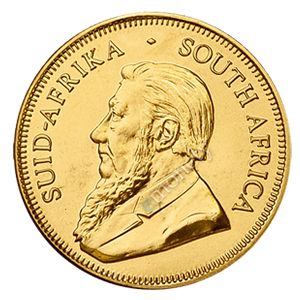 Originally minted in 1967, the South African Krugerrand is known as the original one troy ounce gold bullion coin minted by a government and valued on the content of its gold, rather than on the face value of the coin. Named in combination for the last President of the Republic of South Africa, Paul Kruger, and the "rand," the monetary unit of South Africa, the Krugerrand was produced in an effort to help market the gold of South Africa to the international market. As the first coin to contain exactly one troy ounce of pure gold, the coin provided United States investors with a method to acquire gold during the ban of private ownership of gold bullion. As legal tender foreign coins were not covered under this ban, U.S. investors were free to invest in these South African gold bullion coins.
Featuring the profile of President Paul Kruger, the name of the country in both English and Afrikaans on the obverse, and a springbok antelope and the year of issue on the reverse, each gold Krugerrand is 22-karats (.9167 fine gold) and is made exclusively of South African gold. Comprised of exactly one troy ounce of pure gold and 2.826 grams of copper alloy to improve durability and reduce scratching, each Krugerrand has a diameter of 32.6mm and a thickness of 2.74mm.

Although South Africa has been plagued with political turmoil over the past 40 years that at one time affected the liquidity of the coin, the lifting of apartheid in 1994 helped the Krugerrand regain its status as one of the leading gold bullion coins traded worldwide.
Monex offers South African Krugerrands in units of 20 coins for perosnal delivery.
As one of the nation's leading dealers in gold bullion coins, Monex offers competitive prices on South African Krugerrands. Contact a Monex Account Representative for more information on how you can add this collectable coin to your investment portfolio.
Click here for current Gold South African Krugerrand Prices!
Gold South African Krugerrands Price Trends
Please Note:

Coin prices are Monex ask prices per ounce.
Closing prices are the last prices of the business day.
Candlestick charts and closing price charts do not incorporate the current trading day.
Call 1-800-444-8317 to speak to a Monex Account Representative today!